Full moon bar and braid action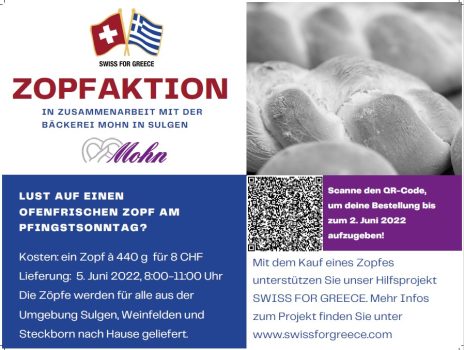 On Pentecost Saturday, the Swiss for Greece team will start up the bakery of the Mohn bakery and form plaits for Pentecost Sunday. These will be baked and delivered on the morning of 05.06.22. We would like to take this opportunity to thank the Mohn Bakery in Sulgen. We are pleased to be able to supply you with a fine braid.
Order online at: Online bestellen unter: https://praktikumjuseso.aidaform.com/muffin-bestellformular-copy1
The first newsletter in 2022 is here.
Click on the image to view it, it's worth it!
---
Will a transport of relief supplies be organized again in 2022?
Thanks to the great personal commitment of a private person, we were able to organize an equipment transport directly from Weinfelden to Skyros in the fall of 2021. Fully loaded with toys, beds, sports equipment, clothes, etc., the driver drove a minibus via Italy to Greece to "our" island. Unloaded and reloaded with honey, olive oil, figs, herbs, etc., he then drove right back. A vacation week sacrificed, much experienced and happily arrived back in Switzerland. Thanks again to the driver!
We can still profit from this large transport and market the many products. However, we do not want to and cannot carry out such a transport every year. Therefore, we have decided not to make a transport in 2022.
In the week of operation 2022 we will make a differentiated list with which goods a possible transport in 2023 would make sense.
This year, we will purchase or order the relief goods locally
or order them and pay for them with the donated money.
Therefore, thank you very much for all the donations!
Never miss an event again
Under the menu item "Home" there is a new tab called "Next events". All events of the year are listed there, just have a look and mark the dates in your agenda.
You will never miss an event again.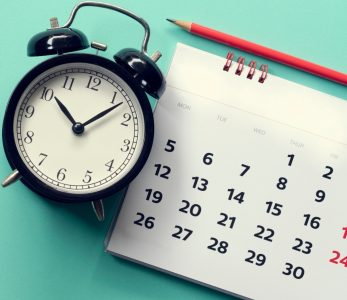 Article in the Thurgauer Zeitung
Despite difficult conditions due to the Corona pandemic, the Swiss for Greece task force was able to travel to the Greek island of Skyros via Athens. From 3 to 10 October, the 12-member group carried out their planned work there.
Thanks to the local contact group, the young volunteers were able to quickly plan their tasks and get into action. Painting and gardening, computer installation, medical assistance, distribution of relief goods and donations, social outreach and much more. Many of the young people used their talents and professionalism, but also got to know each other in other fields of work…
Recently, around 40 people met under "Corona Safety Measures" to look back on the "swissforgreece" week on Skyros and an information evening for the confirmands with godparents and confirmation sponsors. It is a special path that the eight confirmands from Steckborn and the surrounding area have chosen. They are involved in the JUSESO TG aid project "swissforgreece", which provides local help for the people in need on the Greek island of Skyros.
Why do young people work for the people in need? Why do they take a week's holiday for it? Why do they collect money and relief supplies? These are the questions that the young people in the confirmation course explored…